Teodors, the founder of the Service Dog association plays his part.

We celebrate with visually impaired and blind children in the garden of Strazdmuizas High School.

People come from far and wide. The guests wait for the dog show with dogs from different cities.

The celebrations start as the master of ceremonies, Anita Zvirgzde, gives a speech. Helping is her daughter Lea.

The dog show was begun by a volunteer from Cesis, Beate Bringule. Here, she shows off her reliable dog Zani.

Zaiga Klavina, a handler from the dog association, shows off her dog Rubija.

Chairman of the association Aleksejs Volkovs shows off his guide dog Teodors.

Group photo of the children who drew a portrait of Juht Olle on his first birthday in February.

Time for a dance break! Dancing are Agnese Elina and Aleksejs Volkovs. They begin dancing to the song "Sidraba Pulkstentiņš" just as it starts to rain.

Beate and Aleksejs answer the children's questions.

Dog handler Zaiga helps answer the question – do the guide dogs know the rules of the road?

When the talks finish, the kids get a chance to go for a walk with the guide dogs.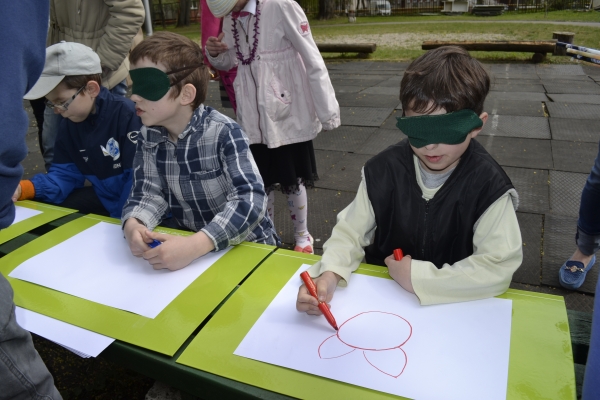 With eyes closed, kids attempt to draw dogs.

Natalija offers candy to kids who can complete the challenge of walking around three trees with a white cane.

As a challenge, kids get blind folded and search for a pot.

The rehabilitation centre presents the skilled crafts of the visually impaired.

Special guests: dog therapists Endzija and Dzerold arrived from Kenventaki Dog Farm with their owner Ramona Karklina.

Samoyeds adore being pet and loved. Everyone is happy!
Photos by: Antra Linarte and Marika Kaisala.